Michael Evans is a full time professional fly-fishing instructor, writer, presenter and tackle designer.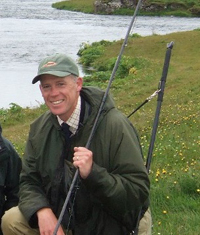 He has written and presented nine best selling game angling instruction films, screened and sold world-wide in three different languages. He has written numerous articles for magazines including The Field, Fly Fishing & Fly Tying and Trout & Salmon. He has been featured on national television, in national newspapers and was described in a recent Field article as one of the top 10 casters of all time
He has also demonstrated at most of the major game fairs and commentated for and presented the entire fly fishing demonstration and competition programme at the largest game fair in the country, the CLA three day UK Game Fair for more than twenty years.
He is a full member and life Vice President of the Game Angling Instructors Association and holder of the Advanced Professional Game Angling Instructor qualification (APGAI) in all three categories: Salmon, Trout & Sea-Trout and Flydressing. Also holder of the Salmon & Trout Associations National Instructors Certificate (STANIC).
Michael has designed and developed a number of ground breaking new tackle ideas, some widely used in the tackle industry today, including the worlds first specialist Spey casting fly lines launched in 1992, the first use of multi modulus carbon in fly rod manufacture launched in 1994, The development of aerodynamic tapers for single handed fly lines launched in 1995 and the development of twin-line technology launched in the same year. He has also developed numerous ancillary tackle items sold under his ArrowHead brand label.
Michael has also travelled the world in pursuit of many different species of fish that will take a fly and is probably the world's leading expert in fishing for Atlantic salmon and developing salmon fisheries both in Scotland and as far afield as the Kola Peninsula in Russia.
Michael lives and works at his Farm on the Kent/Sussex borders near Cowden.