Wading
Wading is a necessary evil if you salmon fish and a pretty common requirement for trout fishing on big still waters, small west country chalk streams and salt water fishing from the shore.
First think of your safety.
Never wade unless you have prior knowledge or someone to guide you as to where it is safe to wade and where it is not.
Never wade unless you are wearing a lifejacket. A lifejacket will turn a fully unconscious man the right way up in still water. A buoyancy aid of vest will not, it is just what it says, an aid to staying afloat which is why it is used for most inshore yachting and watersports etc.
If your lifejacket is built into your fishing jacket it must be zipped up to work properly, which is why I prefer the yolk type. Always remember to wear the lifejacket on the outside of your clothing. For more info on the ENGLANDS SURVIVOR JACKET that I wear click on the caps.
Never wade unless you are with someone. Then if one of you gets into difficulty the other can call for help.
Always wade with a proper wading stick and I don't mean granddads old walking stick or one of the latest collapsible sticks. I have fished more pupils out of the water because of collapsible wading sticks (both the pouched elasticated version and the screw to concertina version) than for any other reason. They collapse just when you are least expecting it.
A good stick must be straight – if not it will vibrate in the water and scare the fish. It must be strong enough to support your whole weight without bending or breaking. It must be long enough to keep the handle out of the water when you are wading chest deep, ie floor to under your arm pit when you are standing straight. It must be weighted in the base sufficient to stay on the bottom in a strong current – which means a lot heavier than you might think. The lanyard must be of the correct length so that you can extend your arm fully but not so long that you cant reach the stick when loose in the water. The lanyard must have a breakaway clip mechanism so that if you are being dragged under by the stick (assuming you have already fallen in) you can easily loose it if necessary. Don't worry you will pick it up later as the weight will keep it on the bottom where you lost it.
Next always remember to wear the wading stick on your down stream shoulder. That way it will not get in your way or worse trip you up.
My sticks then have a special clip mechanism for carrying on your back when not in use. See ARROWHEAD WADING STICK details in the shop.
A belt or not around your waist on your waders? Always a belt. The more air you trap inside the more boyant you will be if you fall in. You will not tip upside down as has been suggested.
Finally choose your waders and particularly the boots carefully. Read on…
WADERS
If you spend as much time in chest waders as I do, you will probably develop a similar love hate relationship with the things. Being comfortable will make you a better fisher. You cannot fish effectively if you are being distracted by personal discomfort.
Years ago I used to have several pairs, neoprene waders for cold water, PVC waders for normal weather and breathables for warmer weather. But these days the advances in breathable materials has made me revise my strategy and go for just one really good quality (and yes expensive) pair and then take a veritable array of under garments to put on to protect from the cold. The latest development of a waterproof zip in the front is one of those things you never missed… until you have had it!
Boot-foot or stocking-foot?  It is a bit of a nuisance to put on separate boots but the separate boots are so much better than the ones with the boots attached, in terms of support, comfort, protection from water pressure when wading deep and in terms of soles available that I would not hesitate to advise you to always go for the stocking foot and separate boots.
For waders and wading boots in my shop click here VISION WADERS & BOOTS
What Sole?
Cleated – Durable general purpose sole. Good on wet banks, mud and snow, so ok for gumboots but not for waders as lethal on slippery rocks underwater.
Felt – Excellent on bare rocks and concrete (groynes, dam walls, etc.) and under water, but very slippery on wet grass and snow. Also felt is now being banned on many rivers and in a number of states in the US because it holds moisture and can carry diseases. .
Felt + Studs – makes the felt last longer but defeats the object. Noisy underwater and horrid over dry boulders.
New amphibian soles. – This is the way forward, these are soles with special sticky rubber pads and ridges on the sole that gives them similar adhesion under water to felt. but manufacturers – "PLEASE CAN WE HAVE A PROPER RIDGED HEEL BACK" which would stop me slipping over on wet grass and snow!!!!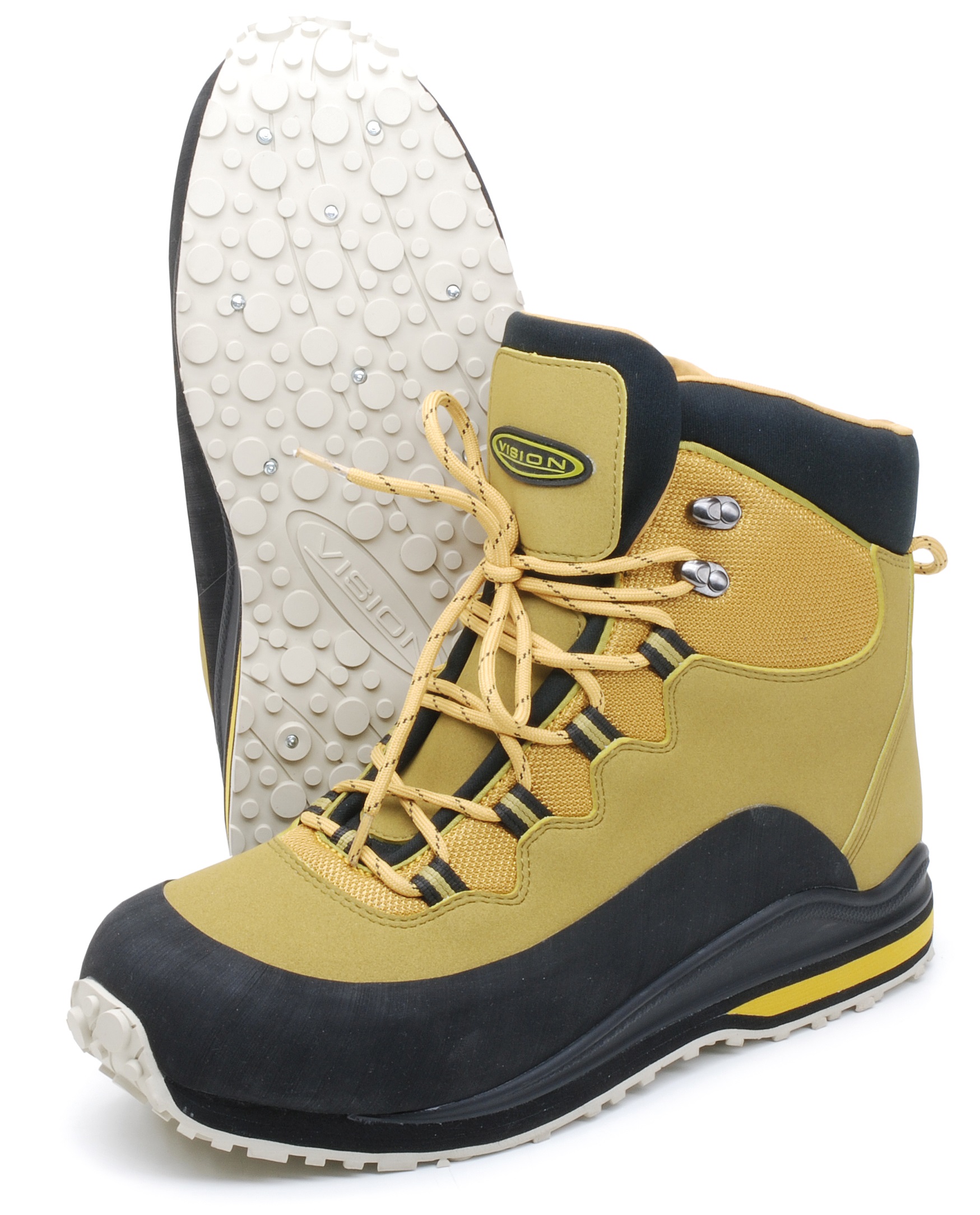 Boots, thigh or chest waders?
This is not just a matter of how deep you need to wade. I wear boots or heavy shoes for most of my fishing and only wear thigh waders if I might need to kneel down on wet grass (e.g., on a chalk stream). But, if it is cold or I might need to sit on anything wet, I'll always wear my chest waders and especially when fishing in a boat. When salmon fishing, it is always an advantage to be able to wade deep even in a shallow river. What if you suddenly had to cross the main current to follow a fish?
WADER SIZING CHART
Choose your perfect fit from the sizing chart below…

Choosing boots to go with the waders: Don't forget to accommodate the extra bulk of the neoprene stocking foot in nearly all breathable waders you should choose a boot at least 2 sizes bigger than your normal shoe size or one size larger than your willies.
Another common error is check if your wading boots are American sizes or UK sizes. A UK 11 is an American 12 or thereabouts, ie one size up.
WADING JACKET
A good wading jacket is also in my view a safety item. Your shooting jacket tucked inside your waders merely invites the rain to run straight in and to leave it trailing in the water outside will make it heavy and unpleasant to wear. Good breathable and yet totally waterproof shells are again not cheap but is the spoiling of your expensive fishing trip worth skimping on the kit? I think not. The wading jacket I recommend and therefore wear and sell is this one from Vision called the OPAS