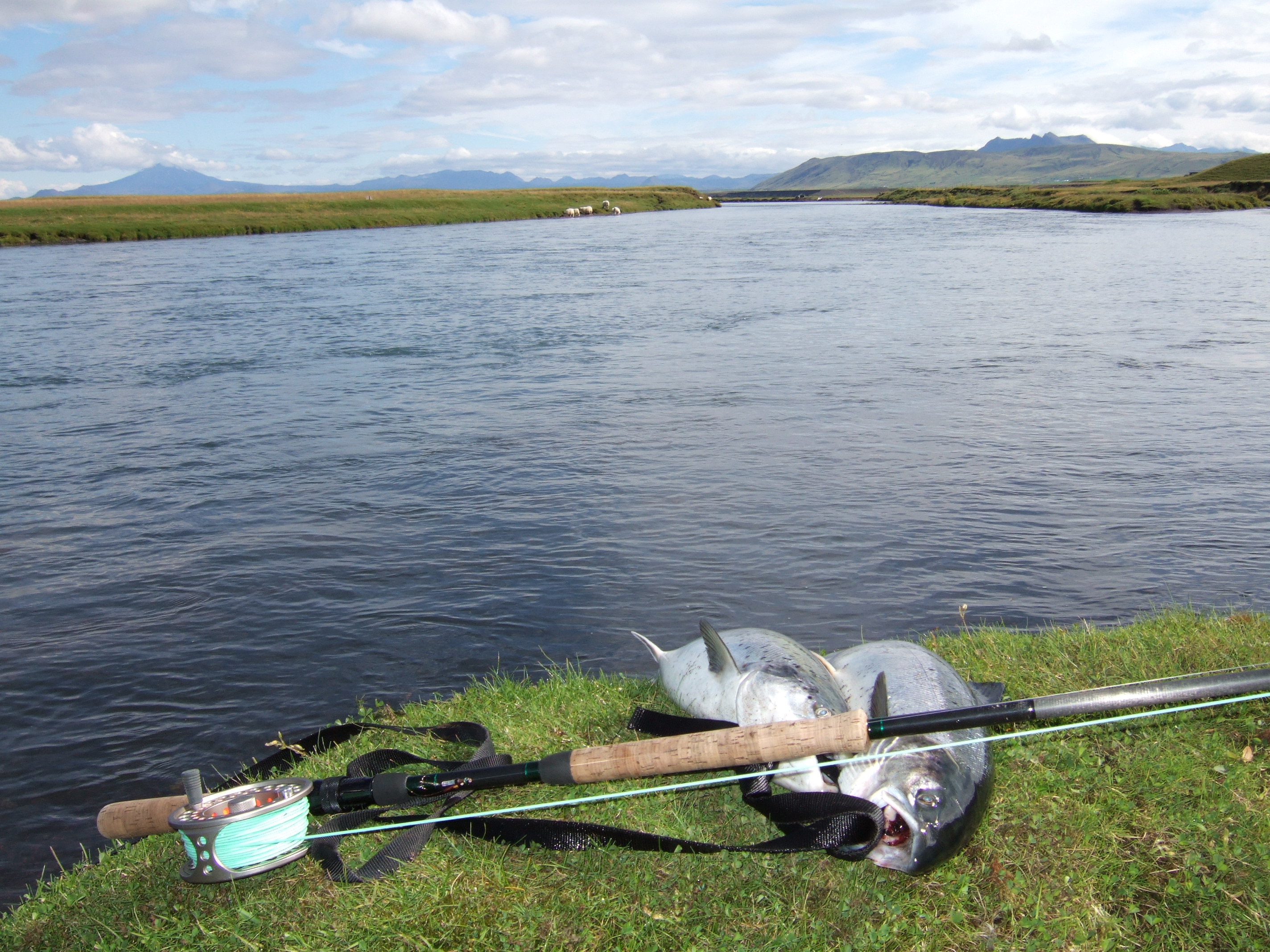 Iceland is a wonderful country famous for its stunning scenery, volcanoes, glaciers, hot springs, Ponies and of course, salmon fishing.
I have travelled extensively in Iceland over the past 20 years and been privileged enough to fish on a good number of its famous rivers from the Ranga in the south right up to the Big Laxa in the North.
Most of Iceland's rivers are small, easy to cover, clear streams and they can be very productive provided you are there at the right time. A lot of the fish are wild but many of Iceland's rivers are also boosted by hatcheries and some of the best managed smolt releasing programs in the world. The other joy for me about fishing in Iceland is that there are no mosquitos at all, apart from some irritating little black flies in the north there is nothing that bites or stings!
On the down side, the wind in Iceland can be pretty strong and on some of the rivers glacial run off colouring the water or weed can both be a serious nuisance at certain times of year, but generally, if you want safe reliable fishing in a beautiful country with charming people to guide you, Iceland has to be near the top of your get-the-T-shirt list… oh, but only as long as you have a deep pocket.
EAST RANGA
My favourite river in Iceland at the moment is without doubt the East Ranga as you might expect from the rather chuffed smile in this picture. But let me explain why in more practical terms.
A lot of the Icelandic rivers, are small and sometimes tiny spate streams which are generally fished with single handed rods. The tactics are all about stalking fish. Lots of walking, quite a bit of mountaineering, some creeping and spotting and then a few casts before moving on, all of which I have to admit is not really me. Yes I quite like sight fishing for Trout or say Bone fish but I am honestly not bothered when fishing for salmon. Perhaps it is the very uncertainty of the unknown that makes salmon fishing a special passion of mine.
I prefer fishing with two handed rods in a river where I can get in and fish down a proper pool for half an hour or so all the while thinking there just might be a number of fish or a huge one in there just waiting for my fly and even if not, I can then move on down to try another.  East Ranga is just so. Fast flowing in the upper and middle reaches with lovely well defined pools and lots of fishable water. East Ranga is also fairly cold and so it doesn't suffer the awful silky weed problems of the West Ranga and many others but it can colour up given very warm weather or a lot of rain. The colour is very white glacial suspended matter and this can turn the river to the colour of milk.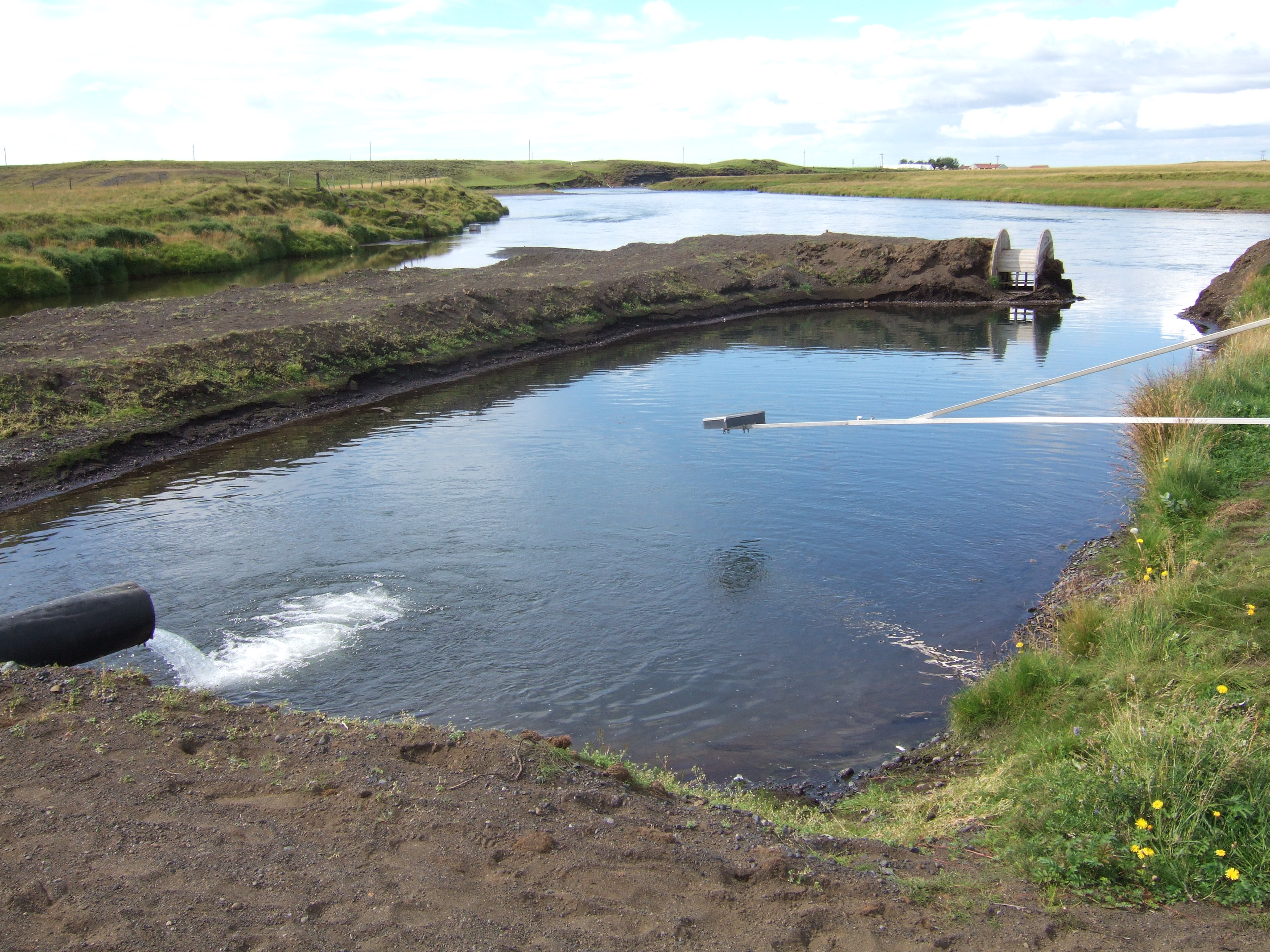 East Ranga is also a smolt released river. Look at the release pond above. The natural stock was destroyed by the eruption of Mt Hekla some years ago and the natural spawning is all but non existant. This means you can also keep your fish as there is little or no successful spawning in the river and they would come to little use except for the better ones which we put in the boxes for the hatchery.
Hence it is possible to do what I managed one fantastic morning in that picture above and come home with some serious smoked salmon for my friends and family. I do not feel guilty about doing this on this river as I return many more wild fish every year and it does offer me some occasionally needed justification for my sport.
I fished both the East and West Ranga for many years, taking a full week but gave it a break when the costs spiralled. These days however I have rather taken a leaf from the local Icelanders book. The average Icelander wouldn't dream of taking more than a couple of days fishing at a time as 12 hours fishing a day for more than 2 days is more than most can manage.
So, befitting my stamina as well as my pocket and the fact that Iceland is easy and not expensive to get to, I have more recently been taking groups for just three days fishing and spreading them over four days plus some après fish in Reykjavic before and after… and great fun these short breaks have turned out to be. In 2013, 6 of us got 67 salmon, in 2012 – 51.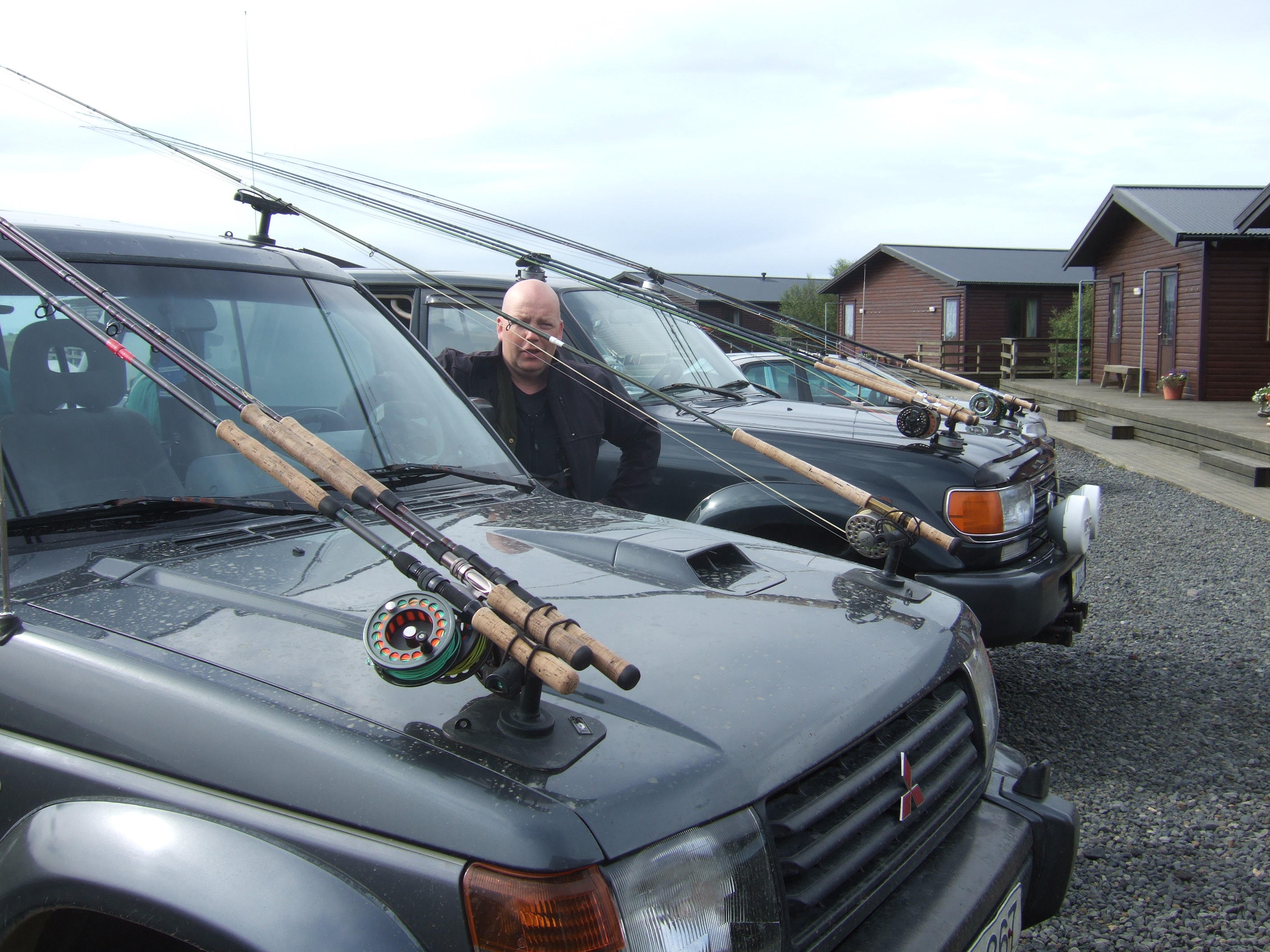 Accommodation: The East Ranga Lodge is typically Scandinavian. Clean comfortable and all rooms en-suite with copious quantities of boiling hot water. Having a shower is as good as a massage!  Icelandic food at the Lodge and in fact generally is outstanding.
The Itinerary of these short breaks is roughly as follows: We start on or around 30th July flying out to Reykjavic in the afternoon and overnighting in the very comfortable Holt Hotel, venturing forth for a good evening out on the town to get us going.
The following morning after a leisurely start we set off for the East Ranga Lodge, about 80minutes drive.
After unpacking and tackling up we are ready for the pre-set 4 – 10pm fishing session on this river. In Iceland there are generally two pre-determined 6 hour fishing sessions each day with a formal rotation around the beats.
We then fish a full day the following day and the day after that and the morning session on the last day finishing at 1pm.
After lunch, packing and collecting our smoked salmon on the way, we then return to Reykjavic and the Holt Hotel for another night out on the town before flying back the following day.
The cost of this package in 2013 was £5,240, or for rod sharers £3,150. Flights around £300. Not included: Your meals/evenings out in Reykjavic, cost of smoking your fish, drinks or guides tips etc.
Tactics & Tackle
To fish the East Ranga successfully you will need your double handed 13 – 15ft rod plus sink-tip (My Dredger Floater) or intermediate (AHT9/10I or AHT 10/11I)  lines plus a leader of around 15 – 20lb b.s. and a range of flies, depending upon water colour. The guides are very knowledgeable on the Ranga and will if you want tell you precisely what to do, but most success comes from covering the water quickly until you find a pod of fish. I tend to cast pretty square on the East Ranga finding that a fast sweep with a larger fly does rather better than the traditional small fly fished slowly. For that reason my " Mikes Prawn" which accounted for every fish in the pictures above is my favourite once again, not forgetting its two parents the Black Snaelda (Icelandic for dancing girl) or the Red Francis. Other flies that do well are the collie dogs and variants the latest of which is called the Bismo. General theme – Black. It shows up against the greeny whitish colouration of the water.
EAST RANGA KIT LIST
WHAT TO BRING AND YOUR SAFETY
CLOTHING
August in Iceland can be warm and sunny but it can also be cold winds and driving rain. River temperature, usually mid 40s. Wading is required on a lot of the pools to get the best from them, though there is some excellent bank fishing for those that prefer not to wade. As a minimum therefore bring:
Chest or Waist Waders – Breathables plus fleece trousers under.
Weatherproof  walking or wading jacket with integral hood.
A suitably warm/waterproof hat.
Fingerless bunting gloves or mittens.
Safety: Sun glasses – Not just to protect your eyes the sun can be very strong.
A lifejacket is recommended but the Icelandic security people can be funny about them and we have had the canisters confiscated in the past.
A good strong wading stick – not a collapsible one they collapse just when you really need it. I have fished more people out of rivers because of collapsible wading sticks than for any other reason!
Tackle:
2 x double handed salmon fly rods of between 13 – 16ft rated 9 – 12. Fishing at this cost, you don't want to risk a break with the only one you have. Plus two reels (same reason) plus spare spools with, at the very least, one armed with a sink tip or multi tip line (my Dredger kit) the other with an Intermediate  line (my twin-line AHT9/10I or AHT10/11I) other spools with say my new Skater line or intermediate lines or a fast sinker can be needed sometimes, so if you have them take them.  All spools to carry at least 100yards of 30lb backing.
A full set and spares of sinking poly leaders 10 or 15ft for your sink tip.
Spools of 15lb – 25lb Seaguar Fluoro Carbon – it sinks faster than nylon – or 12 – 15lb nylon.
Flies – Heavy tubes 1" – 1.5" My Mike's Prawn is my favourite but also excellent Snaelda, Red Francis and collie dogs. Then in smaller 6 doubles add some Tail Fires, or Allys shrimps.
Hooks: Trebles or doubles  6, 8 & 10.
Other useful items: Suntan cream a must it can get very hot. A Camera – of course. Hangover cures!
No need to take: A net, you guide has one. Mosquito repellent – there aren't any!