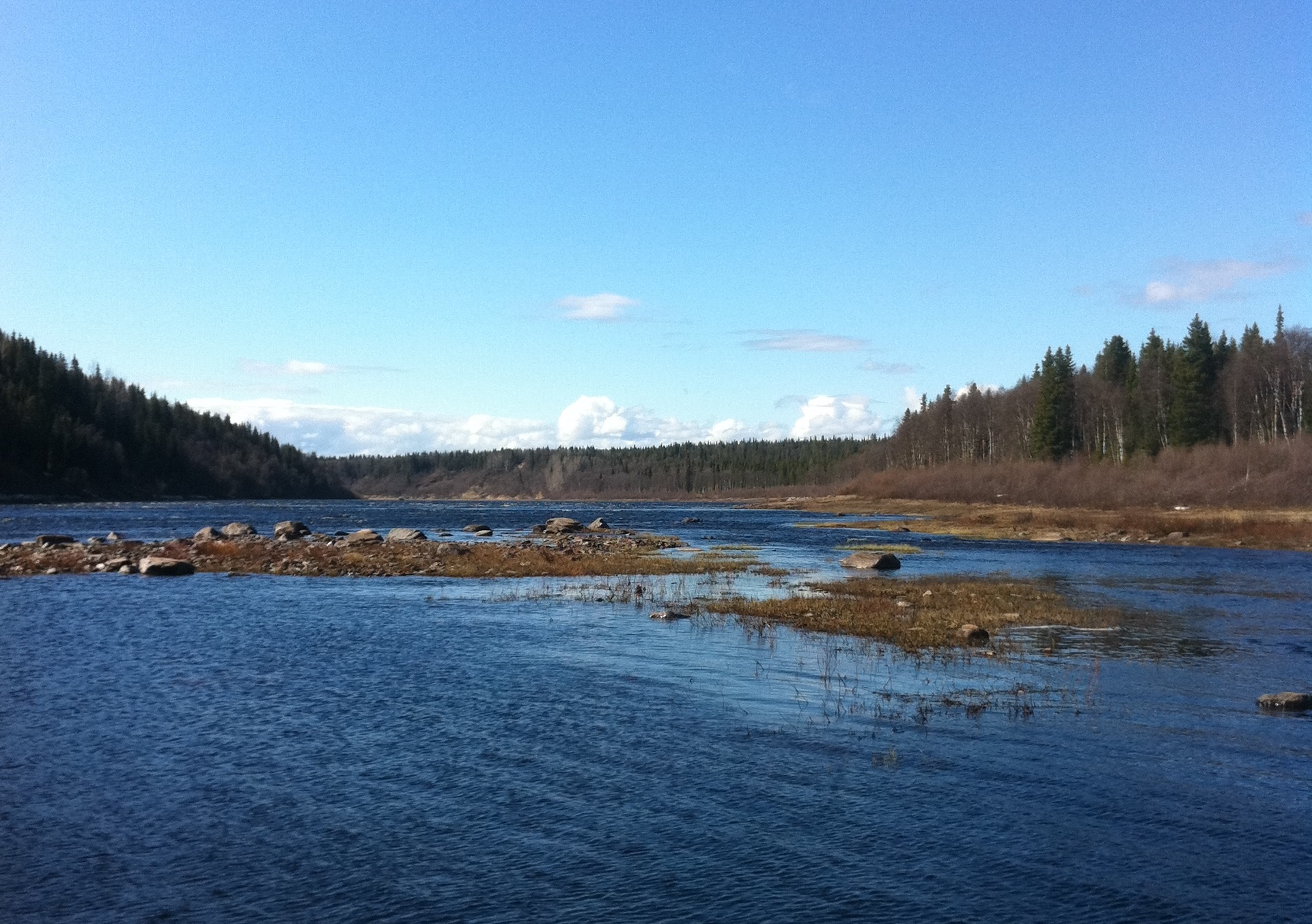 If there ever was a true lost kingdom of the king of fish the Kola Peninsula in Russia is it. The Kola is the nose of land that sticks out into the Barents and White Seas if you go over the top of Norway and down the other side.
Though barely 1000 sq miles of remote taiga and tundra, this region has eight major Atlantic salmon rivers and countless smaller rivers and tributaries: going clockwise around the region starting at 12.00 is the Kola itself, followed by Rhynda, and Kharlovka, then at 1.00 is Varzina, at 2.00 Yokanga, 3.00 Ponoi, at 6.00 Varzuga and finally at 7 o'clock Umba.
Because the Kola is so far north, salmon rivers barely ten miles apart can have distinctly different sizes of fish and timings of their runs, so be very careful about when and where and be cautious about bargains. I remember once when our group had notched up over 300 fish in a few days another camp only 50 or so miles away had caught just 3 grayling!
Lower Varzuga & Kitsa On The Kola Peninsula, Russia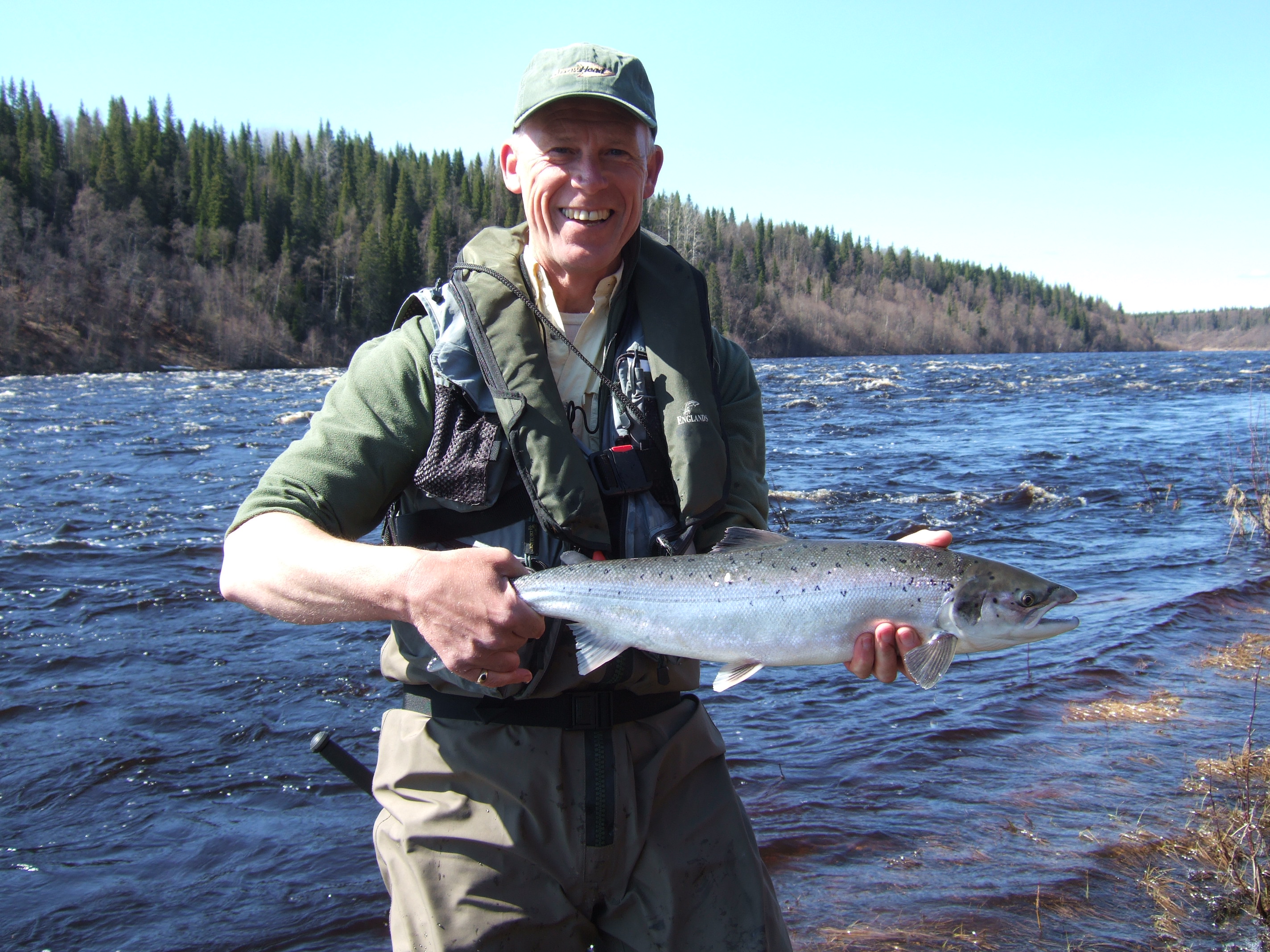 The Varzuga River is situated on the southern part of the Kola Peninsula bordering the White Sea, and is about an hour and a half helicopter flying time from Murmansk. Once away from Murmansk you enter one of the most wonderfully unspoilt wilderness regions in the World. This is wooded tundra with dense birch and spruce forests surrounding large areas of peat bog. The Varzuga is a big River, at least the size of the Tay but shallow with mile upon mile of perfect fly water.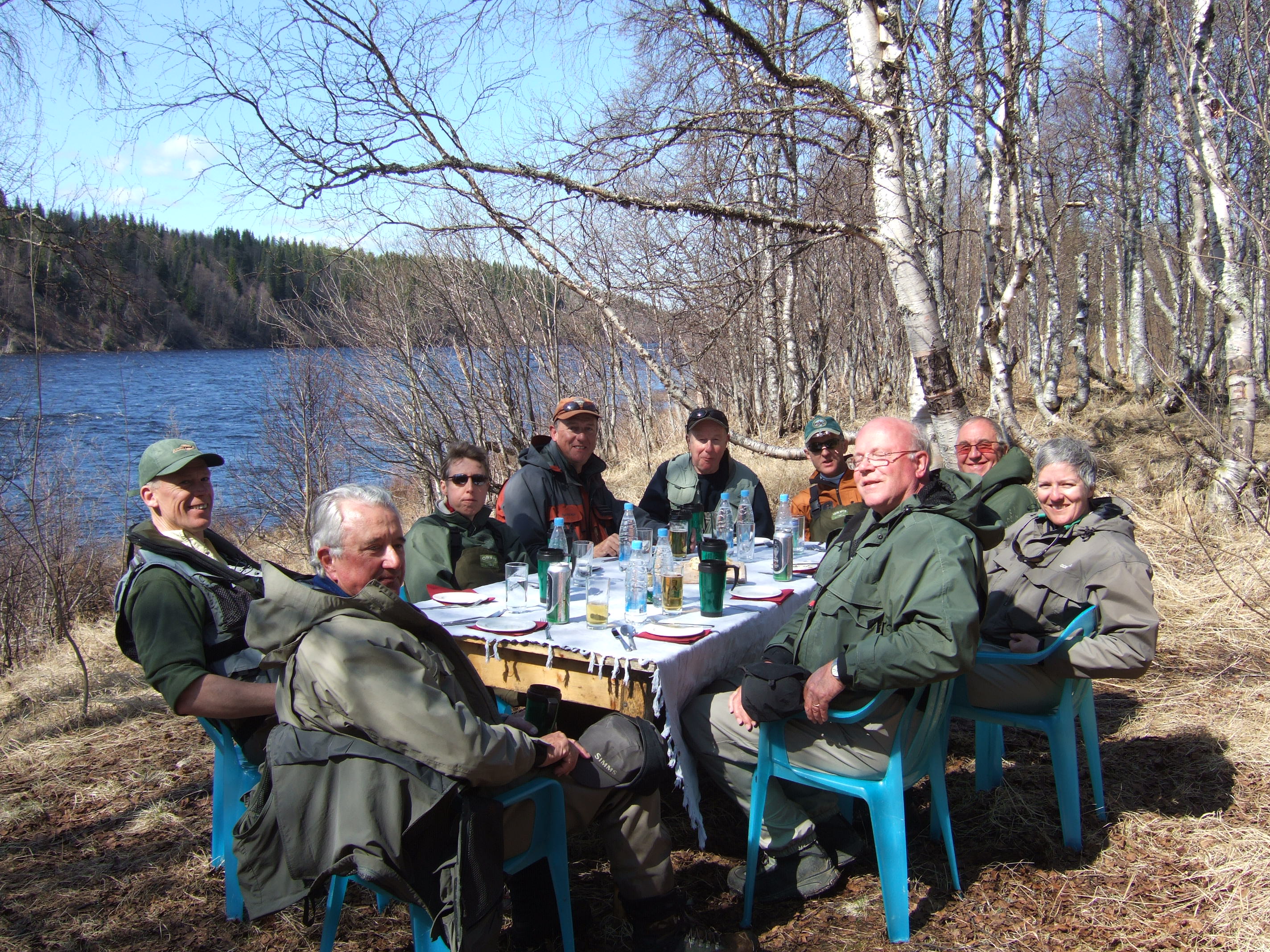 The Kitsa, one of its main tributaries, is much smaller being about the size of our middle Dee and joins Varzuga almost at its mouth. This is a lovely river, rather more intimate than its larger parent, with fast runs and stickles, some text-book pools and hundreds of lesser but still great stopping spots. The Kitsa camp is also much more intimate than Sabacchi and almost lost in the woods as it seems, has a character all of its own. Many a night in the Kitsa dining room has been etched into my memory and openly carved on my liver!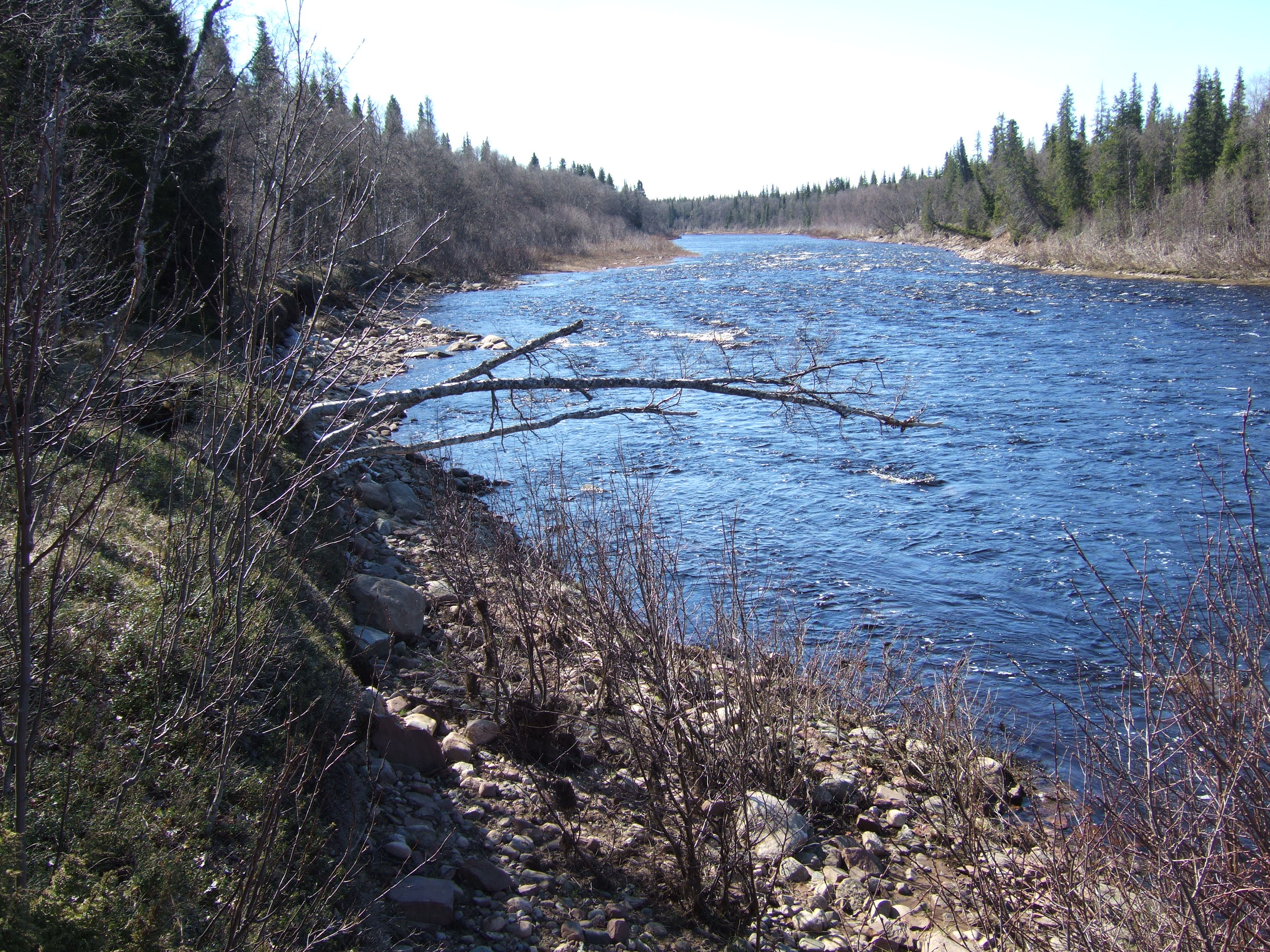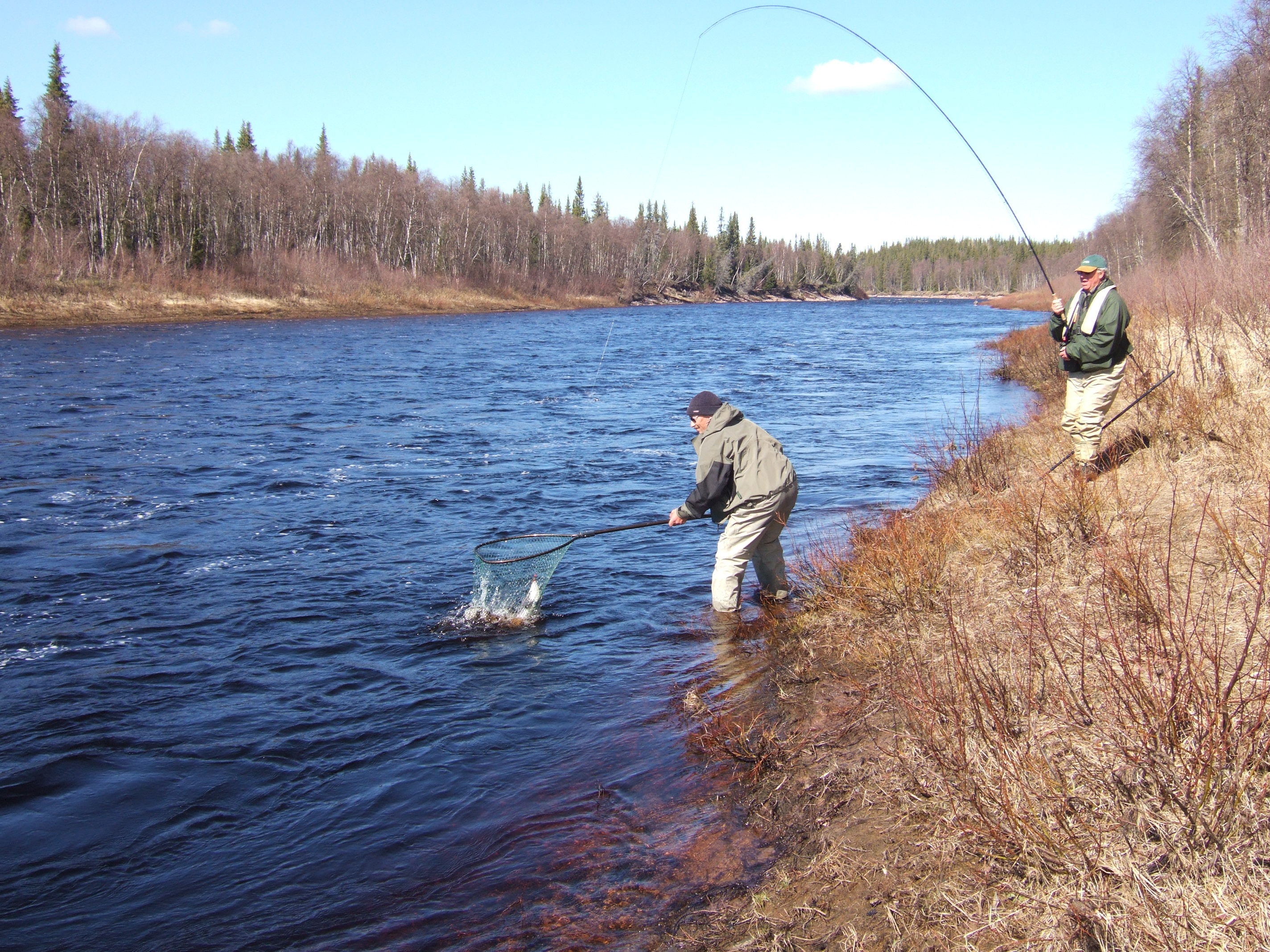 Varzuga and Kitsa are all about grilse, (one sea winter Atlantic salmon) averaging about 6/7lbs and lots of them. My own records include 50 salmon in a day (and I lost 17 more!) and 174 in a week and a party total of 830 for that week! With a current five-year average of 238 or 24 fish per rod (Stats for 2009 – 2013)  you can expect to learn more about Atlantic salmon fishing in a single week on Varzuga and Kitsa than you will in a lifetime of visiting a Scottish river.
Tactics: If you are travelling with me (ie late May)  you will need double handed rods 13ft – 15ft rated for 10 – 12wt lines (450 – 600grains) and have a skill set that includes being able to cast heavy flies and at least sink tip or sometimes full sinking lines to get the best from it.  Generally the tactics depend upon whether it is a high or low water year. In high water the water is also likely to be cold and a floating line or sink-tip just does not cut it, you need a full hi-density line and big heavy tubes to keep it down. In one very high water year I had 19 fish on the bank by lunchtime with a Hi-Density line and 3″ brass tubes when the fisher below me had not had a pull. A quick lesson and a loaned line and he caught 7 before it was time to go to his next beat!
In a low water on the other hand, you could well be fishing small flies near the surface and even dry flies. Under these conditions it is great fun to take a single handed rod and watch the fish come right up for it. One of the pools at Sabacchi is called Coconut corner after I found a spot in the early years where, with a single handed rod and small Water-Skier fly and barely five yards of line out it was "Every time a coconut!"
The Kitsa can run a lot colder than the main Varzuga as its flow comes through a large lake at the top which often remains frozen well after the main river has broken. So even if you are fishing on the surface in the Varzuga you could be back to the sinkers over on Kitsa. The good news is that in my experience the fish are general bigger on Kitsa averaging about 9/10lbs probably because it is that much colder.
If you want to see more about the fishing on Varzuga & Kitsa may I suggest you get my DVD Salmon Fishing & Spey Casting as a fair bit of the tactics section was shot on Varzuga. (Yup you guessed it… yours for £19.95 plus p&p!) including some great action sequences of fishing sunk lines and of fish taking dry flies. You will also find my full Varzuga&Kitsa kit List below.
VARZUGA & KITSA KIT LIST
WHAT TO BRING AND YOUR SAFETY
CLOTHING
May on the southern Kola can produce anything from winter ice and snow to warm bright sunshine and you should travel equipped accordingly.  Wading wise the river temperature at this time of year rarely gets above 50 degrees and can be as low as the mid 30s. Wading is required on a lot of the beats to get the best from them, though lesser so in a high water year. As a minimum therefore bring:
Chest or Waist Waders – Breathables plus long-johns and heavy fleece trousers under. Waders should have separate strong wading boots, there is not enough support and ankle protection from rubber boot-foot waders for a big river like this -.
Weatherproof  walking or wading jacket with integral hood.
A suitably warm/waterproof hat.
Fingerless bunting gloves or mittens – don't take neoprene gloves they are useless.
Safety: Sun glasses – take UK and tropical or Skiing lenses, the arctic sun can be very strong.
A lifejacket (put it in your main case not hand luggage) plus spare canister.
A good strong wading stick – not a collapsible one they collapse just when you really need it. I have fished more people out of rivers because of collapsible wading sticks than for any other reason!
Tackle:
2 x double handed salmon fly rods of between 13 – 16ft rated 9 – 12. This is not the place to break the only one you have. Plus two reels (same reason) plus spare spools with, at the very least, one armed with a sink tip or multi tip line (my Dredger kit) the other with a full sinking Hi Density line (my twin-line HiDensity) other spools with say my new Skater line or intermediate lines or fast sinkers can be needed sometimes, so if you have them take them.  All spools to carry at least 100yards of 30lb backing.
1 x single handed rod rated 8/9 plus reel, backing and full floating line.
A full set and spares of sinking poly leaders 5, 10 and 15ft for your sink tip.
Spools of 25lb or 30lb Seaguar Fluoro Carbon – it sinks faster than nylon – or 15 0 20lb nylon.
Flies – follow the links if you want to see them by clicking on the flies – Mainly tubes, brass, copper and aluminium 1" – 2" My Mike's Prawn is my favourite but also excellent on these dark peaty rivers are my Evans Special, Tail-Fire, Wagtail and others such as the Cascade, Willie Gunn, Red Francis, Garry Dog, Ally's Shrimp. But add some doubles in case of low water and a couple of Water-Skiers for the single Hander.
Hooks: Singles or doubles only with barbs squashed down 4, 6 & 8.
A good set of pliers for squashing barbs down – a botched effort with your scissor forceps can lead to a hefty fine and your license taken away!
Other useful items: Sound proof head phones or ear plugs for the helicopter. A head torch – there still aren't any bedside lamps in the camps! Suntan cream a must it can get very hot. A waterproof holdall – the bottom of the boats can be sloshing with water. A good knife for cutting willows when you get your favourite fly comprehensively stuck. A Camera – of course. Hangover cures!
No need to take: A net, your guide will have one. Mosquito repellent or head net – Unless you go after my week in which case take a case of the stuff!