At Little Saxbys Farm, I have two small lakes set in the stunningly beautiful Wealden countryside where I have traditionally offered a variety of fishing and instruction. The lakes are stocked both with rainbow and brown trout, insect life is prolific and I have an impressive hatch of Mayfly in the Spring which gives some fantastic dry-fly fishing. There are 8 fishing platforms and a small fishing hut with a table and chairs etc but no water or WC as yet.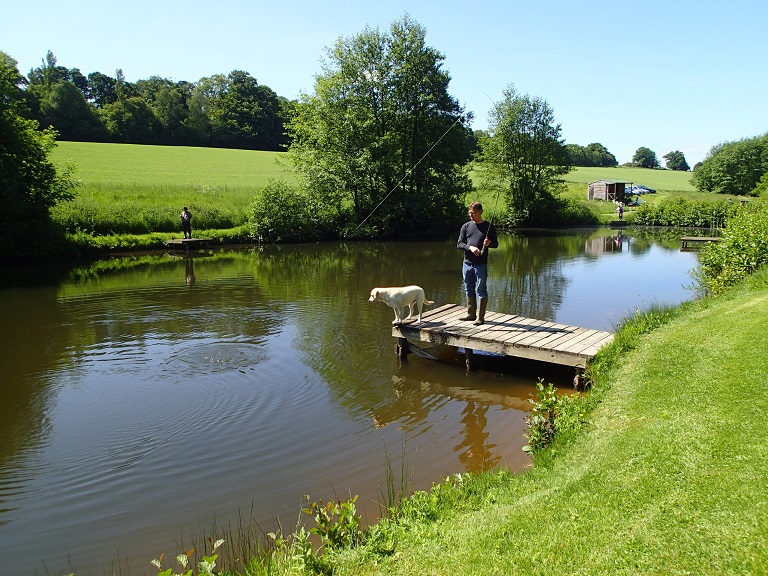 For 2016, whilst continuing to offer tuition on the lakes to those that require it, I am proposing to open the Trout fishing up to a small and exclusive syndicate. The best of the fishing is from opening day on Friday March 18th until mid-June, when the weed growth and water levels can start to be a problem. Thereafter the fishing is pretty limited until I have weed cut (usually in late august) and the cooler weather arrives in September, which is when I usually re-stock ready for the autumn period. I close the season on October 31st.
I am proposing for this first season that syndicate members will be entitled to fish any day, except Wednesdays (which I am keeping back for teaching) from dawn until dusk. A member will be permitted to catch and keep up to 6 fish in any week (Friday – Thursday) throughout the season, subject to the fishery rules. A member can bring a guest any time after 1st April but the weekly catch limit is then shared between you. The cost will be £600 per member for the season payable in advance.
To apply: e-mail        enquiries@michaelevans.co.uk   or telephone 01342 850765