In fly fishing, the reel is rather less important than in coarse or sea fishing. The reel plays no part in fly casting and, for most of the time, is just a convenient place to recover and store the fly line and backing that are not in immediate use.
For most trout fishing, a simple ratchet or drag fly reel is quite adequate provided it has an exposed rim for you to cup in the palm of your hand to slow a fast running fish: The drag serves only as an anti over-run break.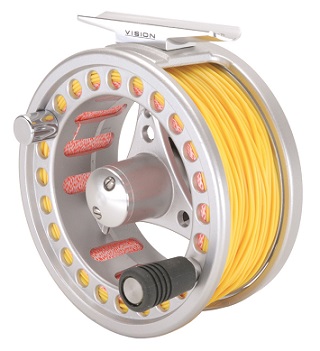 The rim on this Vision Koma (a moulded reel) is exposed on the near side.
The picture changes though when fishing for large, powerful species, when the fly reel takes on a more important role in playing the fish. For big fish, you will need a good quality fly reel with a smooth one-way drag system. This allows a running fish to take line against an even resistance, without jerks that could endanger the leader.
Choose a reel that holds your intended fly line and enough backing for the species and size of fish you're after. For trout, at least 50 metres for salmon and saltwater species at least 150mtrs.
Don't buy a reel that is too big, or you'll waste miles of backing packing out the spool. With the reel attached to the rod, the line should run straight to the bottom rod ring from the spool (from the side furthest from the rod handle). The line should not run over any of the reel cage pillars.
In terms of quality and expense, top-of-the-league fly reels are machined out of solid bars of aircraft-grade aluminium alloys and the price should reflect the quality of the drag and the degree of protection offered in the finish, usually called anodising.
If you are even thinking of going saltwater fishing with a reel it pays to start with the very best. Years ago I took one of my then best salmon reels to the Caribbean, washed it every day and thought it was fine… three months later tiny pin pricks of corrosion appeared all over it and within a couple of months it was a bin job!
This is why today I favour the Lamson Litespeed reels as they have one of the best finishes around called Hard Alox.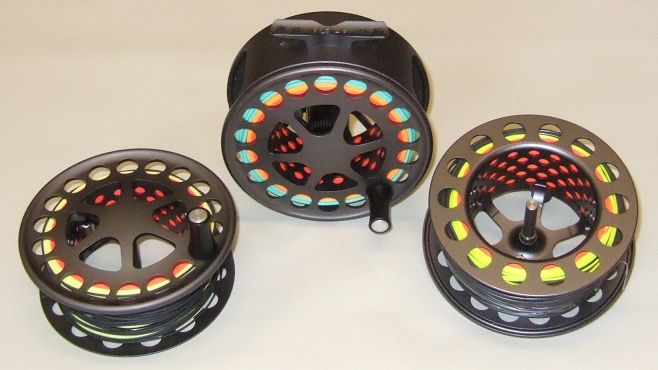 The picture is of one of my own reels and spools after what is as I write more than 5 years of hard use.
Lower down the price range are reels made from pressure die-cast alloys. At the economy end, there are perfectly functional fly reels made of various Graphite and plastic composite materials.
Maintenance
After use, I usually wash down my reels with slightly soapy water to remove dirt and salt. I then coat just the spindle with a light film of engine grease. Don't go mad with the oil can! Oily or greasy surfaces are just a magnet for fine grit that accelerates wear and may even cause a jam at some critical moment.