Blue Water Saltwater Fly Fishing
Saltwater fly fishing is a relatively new sport, but already very popular as a warm weather, winter holiday for many fly fishers.
The attraction is not difficult to see, it is freezing cold, damp and generally dark and dingy in the UK and most of the Trout & Salmon waters are closed… you step into a plane and step out into the warmth of the Caribbean or Indian Ocean, rolling up your sleeves and trousers for some of the fastest, hardest-fighting, fly takers on the planet. What's more, you can also take the other half and even they don't fish, you can always abandon them on some sun-kissed shore or take them diving amongst the coral gardens for a few hours whilst you wait for the perfect tide.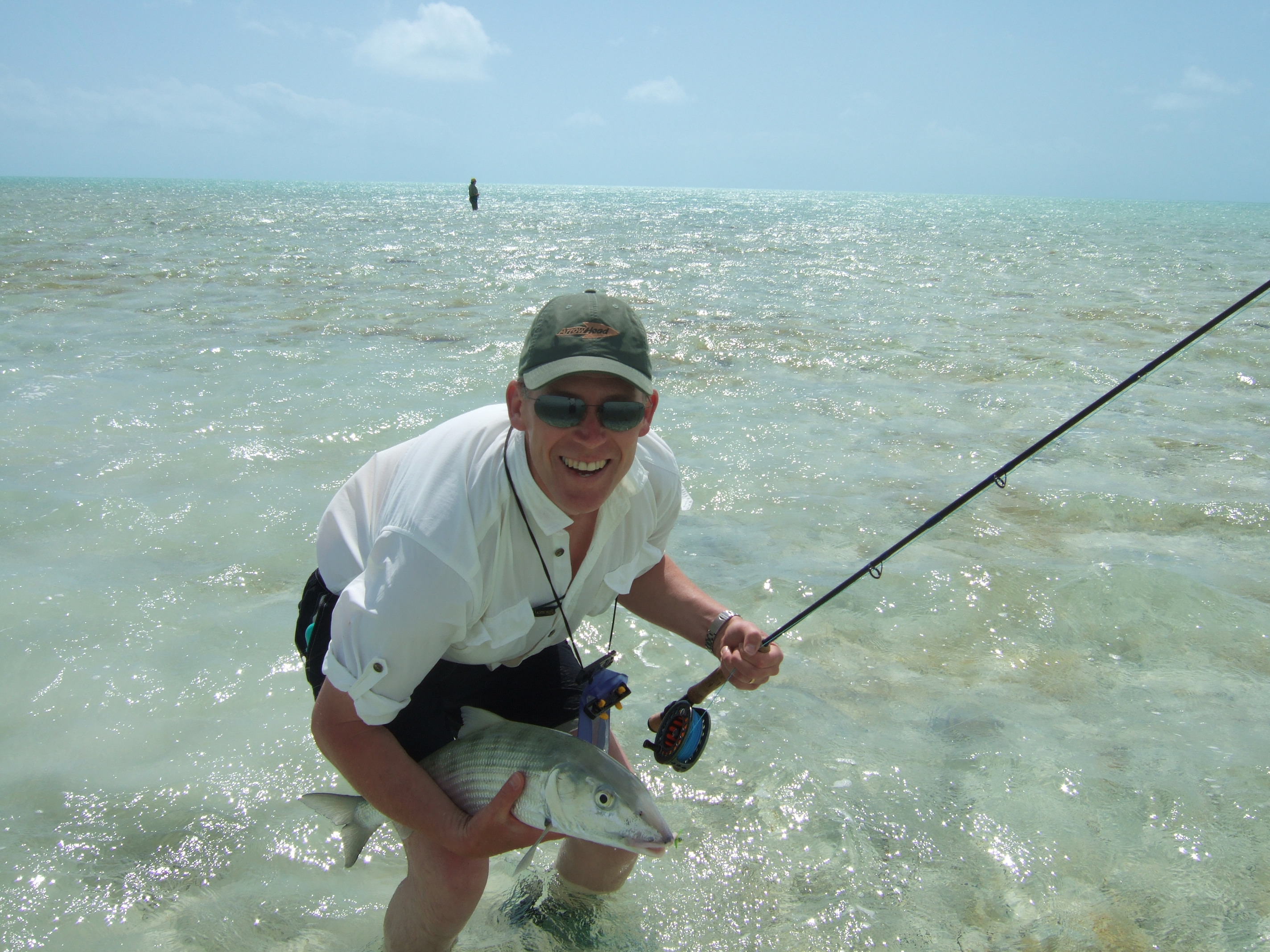 The primary species at just about all the destinations I have visited are the bonefish. These are a sort of supercharged, saltwater trout that feeds on the flats, areas of very shallow clear water over either sand or coral between the reef and the shore. The smaller ones swim in big shoals and can be relatively easy to catch at the right time of the tide. The bigger ones are more solitary and much more wary and must be stalked very carefully with accurate casting. The key to bone fishing is learning how to spot them. To begin with you will need a really good guide, but with a really top quality pair of Polaroid glasses and practice you can develop the skill yourself.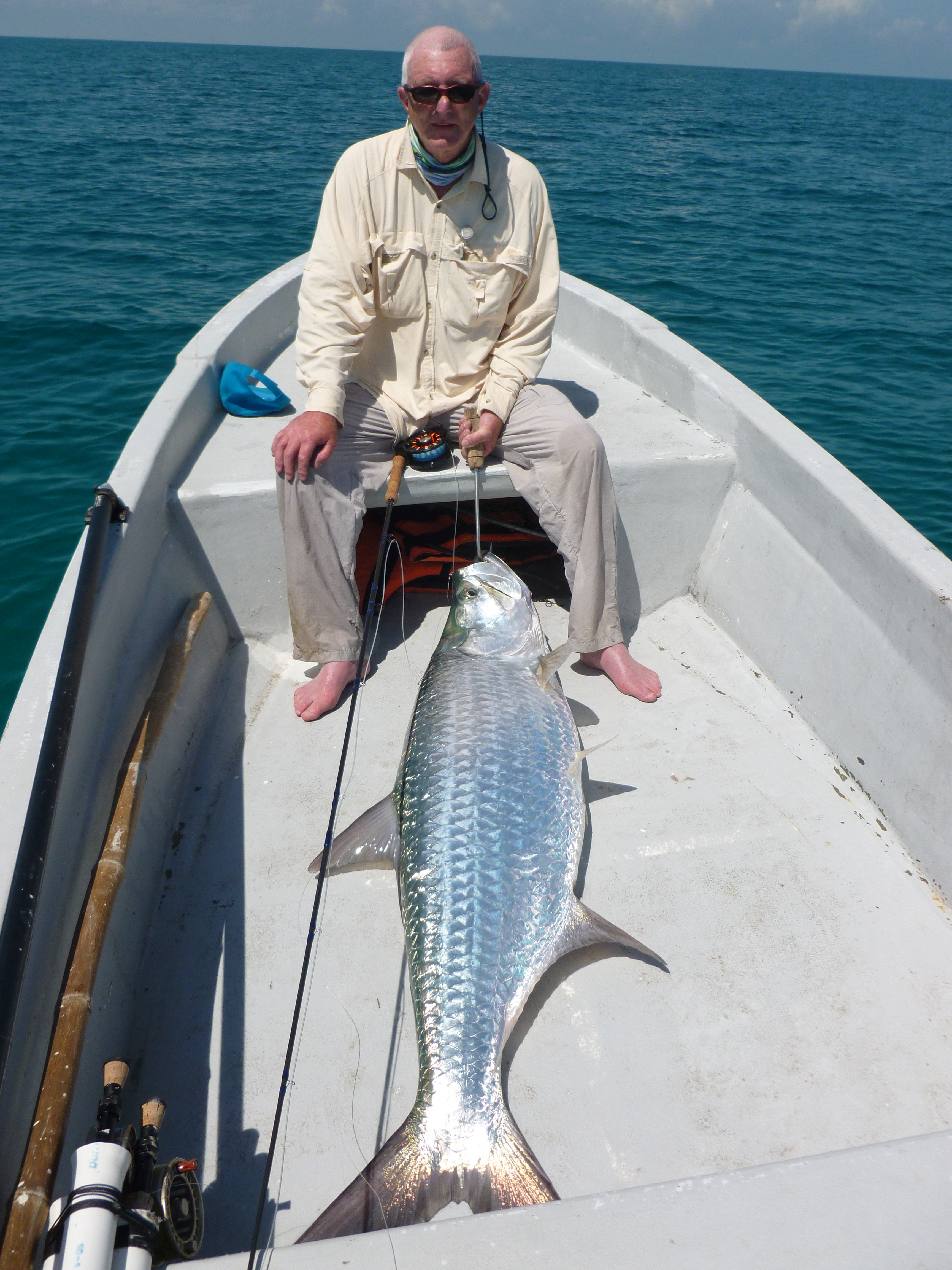 Next on the target list are Tarpon – these are the saltwater equivalent of barbel but they can grow to tremendous size. They can be stalked in much the same way as bonefish but they are migratory and only visit certain destinations in any numbers at certain times of the year. To catch them and hold onto them you need very specialist gear with very strong rods and huge reels. This is Derek C with a tarpon of over 100lb caught using my Bluewater 11 rod and line.
Permit are the third in what are usually termed the Grand Slam species, should you be lucky enough to get all three in a day.
These are a sort of turbo charged bream, which usually shoal off the edges of the reef but occasionally come inshore to feed. They are very elusive and only a guide who knows their movements intimately will put you onto them. Catching them seemed to me not very difficult provided you have mastered the art of casting with a fly with the air resistance of a dead chicken, and you discipline yourself to set the hook without striking but release the line to run when the Permit takes off and by goodness do they!
Other Species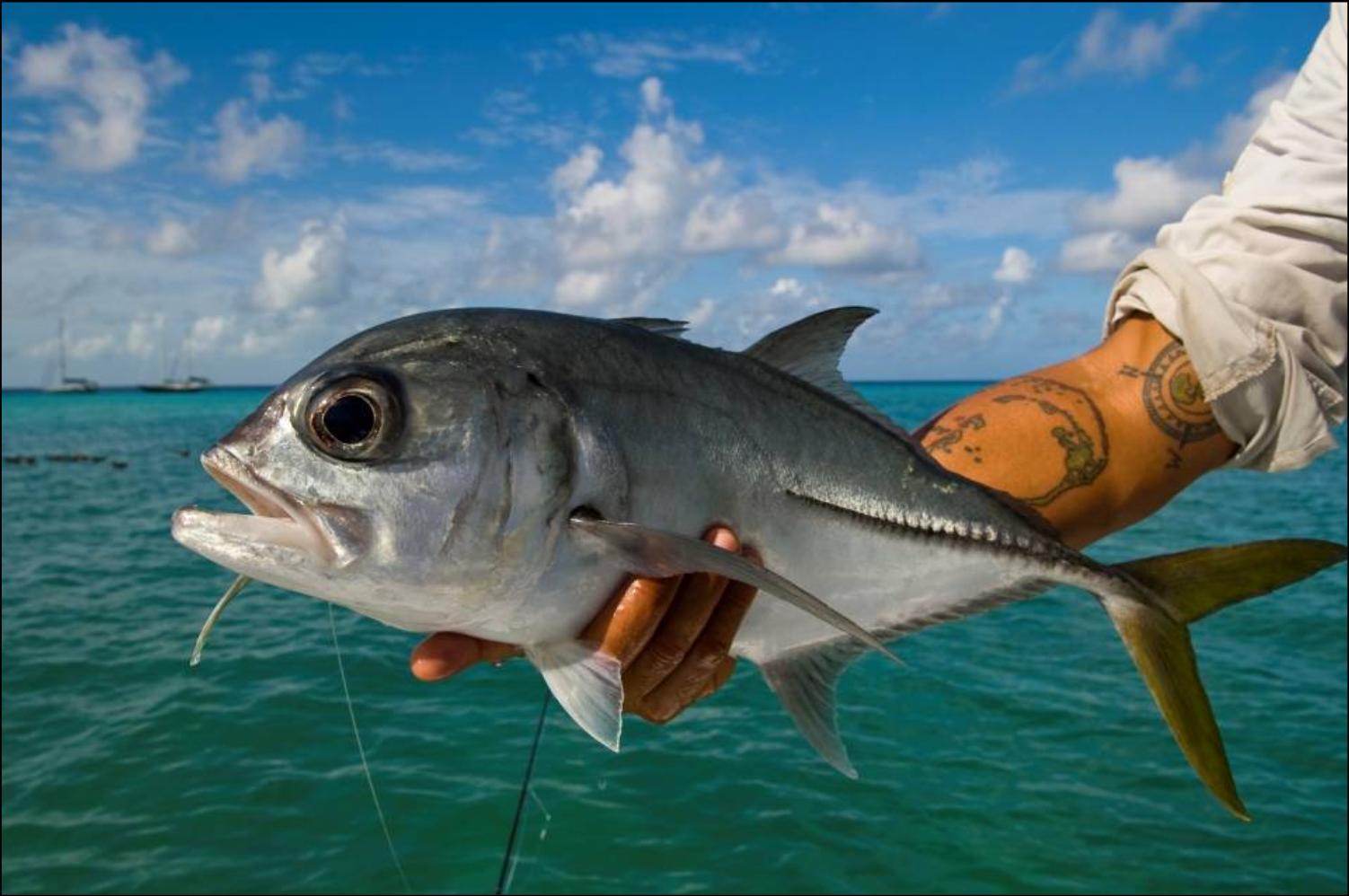 There are a host of other species you may catch on a saltwater holiday. Not least of which are Barracuda. I think the ol' cuda are probably the most underrated of all the saltwater fish. They certainly have the most spectacular take of any fish, cartwheeling over the fly right out of the water. I have experimented with both double handed rods and tarpon rods cast sideways and allowed to swing around to the back of a slow moving skiff for the best results. I have also adapted a pike fly with special hooks and steel wire traces to get past the razor sharp teeth, which the cudas seem to attack furiously.
Then there are the Jacks family and most of the mackerel family which will all take a fly if presented to them. The most important lesson I have learned about a saltwater holiday is not to be a slave to the fly rod. You have to enjoy just being an angler and go with the guide. If he says the tides are wrong for fly fishing or the bones are "off" get out your spinning rod or bait gear and go and have some fun with different types of fishing.
Some of the destinations I have visited in the last few years include:
Turks & Caicos Islands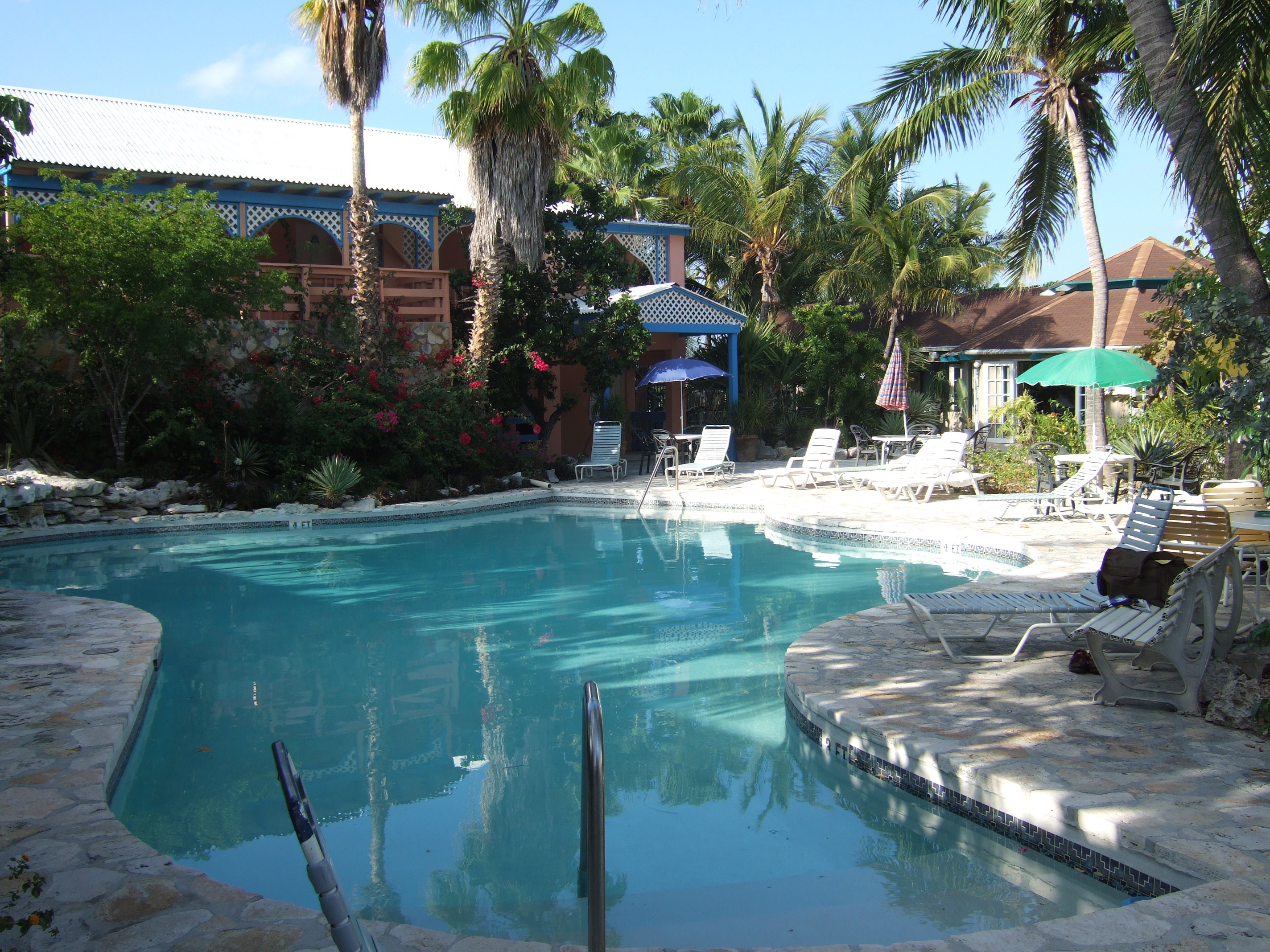 The Turks & Caicos themselves (Turks from the Turks Head shaped native cactus) are relatively lesser know with the exception of Grand Turk and Providenciales (Provo for short). The main attraction, apart from the climate, which benefits greatly from the trade winds and therefore never gets too hot, are the powder white sandy beaches, spectacular wall diving and the bone fishing.
The main bone fishing areas are between the numerous islands and Cays that make up this chain with its unique coral reef that protects them. The other islands in the group include North, Middle, East and South Caicos as well as Grand Turk. There is also internationally acclaimed blue water boat fishing for marlin, sailfish and wahoo outside of the reef.
I have been to the TCI a number of times because I have found the Bone fish there are bigger than almost every other destination I have visited and a double figure Bone is a fish of a lifetime! When I am in the TCI I usually stay in the Turtle Cove inn on Provo a short walk from the fantastic powder white sandy beaches of Grace Bay which is comfortable and relatively inexpensive and close to the main dive operators and a host of good pubs and restaurants around the marina and I fish with Ed Missick of Catch the Wave, who is without doubt one of the keenest and best Bone fish guides you will ever meet as well as a fantasticly nice guy.
Venezuela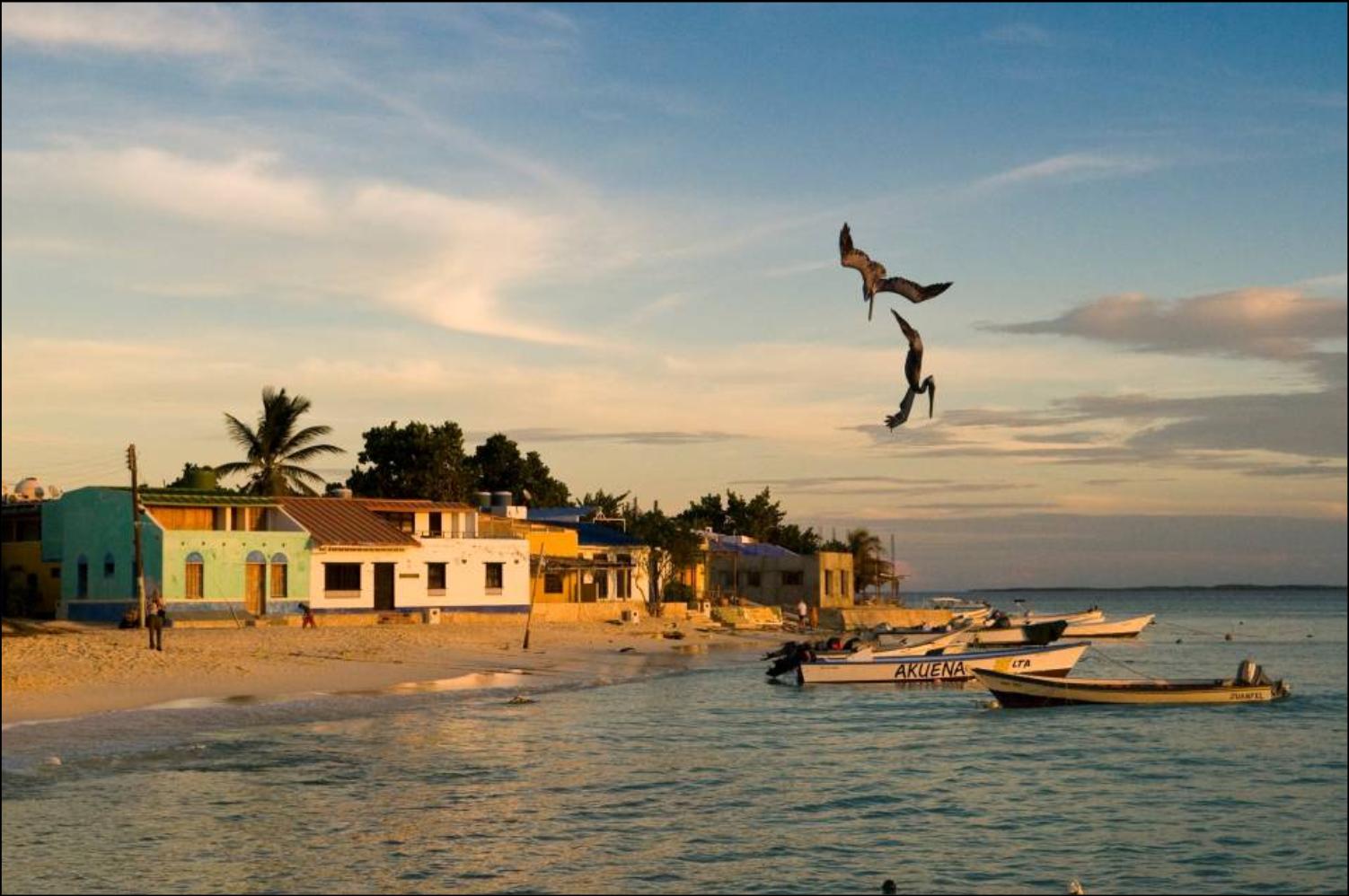 Los Roques is a small archipelago of islands about 80 miles north of Caracas, with a number of fly fishing and diving operations operating from the small but lively port of the same name. The fly fishing is world class with easy to wade "pancake" flats with a serious amount of good sized bonefish, (average of around 4lbs), big tarpon (up to 100lbs) which cruise tantalisingly around the harbour just to get the adrenalin flowing and the chance of lots of other species.
Non fishers are well looked after with boats available to visit deserted beaches with a full cool box for lunch, good snorkelling and great diving for certified divers.
Belize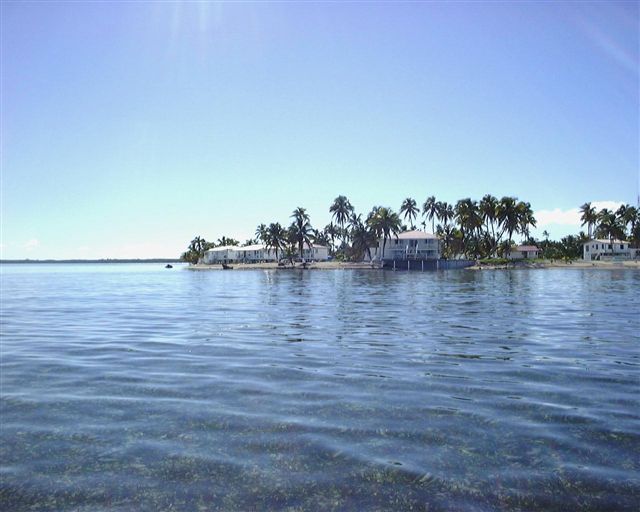 Belize is an ex-British colony, now a member of the Commonwealth. Rather easier to get to than Cuba. Turneffe Flats provides very similar fishing and diving to Jardines de la Reina, but with the added advantage of being land based. At the time I went we had good numbers of bonefish, though mostly smaller school fish, and the very real opportunity to hunt for a permit.
I have to say that the luxury of good accommodation and just stepping out of your room onto golden sands and wandering off onto the flats for a cast or to the reef for a snorkel or swim gives it an edge.
Cuba
Cuba is the saltwater equivalent of the Kola Peninsula. A true wilderness stuck in a time warp. It is worth going just to see the Caribbean as God made it and not just a theme park for American tourists as much of Florida and the Bahamas has become. Though I inherently dislike all major cities, Havana is one of the few really worth seeing.
Fishing-wise, bonefish and the occasional tarpon is the main fly fishers' quarry, but there are also jacks, barracuda, snapper and a host of other tropical fish to be had on spinners and bait. I racked up 11 different species on my first trip.
Fishing-wise, bonefish and the occasional tarpon is the main fly fishers' quarry, but there are also jacks, barracuda, snapper and a host of other tropical fish to be had on spinners and bait. I racked up 11 different species on my first trip.
Diving-wise Jardines de la Reina is the best I have ever encountered. Gliding over untouched coral reefs, hand feeding a grouper that weighed more than me, swimming with sharks, and my first sight of an eagle ray are experiences I will never forget.
The accommodation is a houseboat called La Tortuga, which is moored in the Mangroves. With seven twin rooms all with en-suite showers and loos, it is clean and comfortable but without luxury. The food is very Italian (this is an Italian operation), and excellent.